Shockwave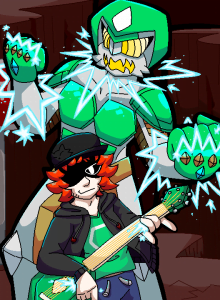 Another one of the portraits for the Crypt of The Marysquid mod for Crypt of the Necrodancer, this time features the creator of the mod himself, Player1Up and his stand known as Shockwave.
This piece features an interesting interpretation on the characters as well as a background that is designed to reference one of the favorite series of Player1Up known as "Madness Combat".
This piece was done as a speedpaint video which showcases how it was drawn from start to finish.